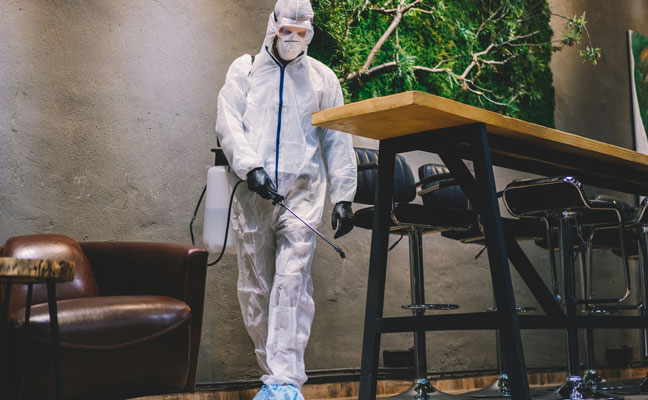 In recent weeks, a number of pest management firms have answered their respective markets' need for commercial sanitization and disinfection services in light of the COVID-19 pandemic. These include:
New York, N.Y.-based BHB Pest Elimination, whose newly launched Disinfex Services features a two-step program and "targeted programs for the high-touch and vulnerable areas" of a facility. BHB President Michael Broder, a member of Pest Management Professional's (PMP's) Editorial Advisory Board, is also offering free on-site assessments, and special discounts for members of the New York City Hospitality Alliance, the Hotel Association of New York City and the New York State Restaurant Association.
Jeffery Hardy, owner of Pest 2 Rest Pest Control, Milwaukee, Wis., was recently spotlighted on local ABC-TV affiliate WISN for his newly launched disinfectant service. According to the story, "Hardy charges by a building's square footage for disinfectant treatments. Smaller buildings could cost a couple hundred dollars; larger buildings like churches would be closer to $1,000. Hardy said he is willing to work with any business that may be struggling financially because of the pandemic. Pest 2 Rest created a GoFundMe page to help other businesses pay for disinfecting treatment."
Tampa, Fla.-based Enviro-Serv Pest Management Services is, according to a news release, "aggressively marketing our COVID-19 services to our current government, commercial and residential clients, and simultaneously launching a digital social media ad campaign to generate new business as well."
Brezden Pest Control, based in San Luis Obispo, Calif., has launched its ViroDisinfect service, which according to its news release will "help businesses quickly and thoroughly suppress a wide variety of serious pathogens. The new service is being used by restaurants, offices, medical buildings, schools, apartments, event venues, public transportation, private automobiles and RVs to sanitize common areas and increase customer confidence." As a bonus, notes Founder John Brezden, "ViroDisinfect is also effective at controlling odors from tobacco smoke, cooking odors, sports equipment and pet urine, on a molecular level, rather than simply covering them up with fragrances or nose-numbing chemicals."
According to a news release, the new Disinfecting Service offered by Troy, Mich.-based Rose Pest Solutions "will provide a customized service through either misting, spraying or wiping, or using a combination of these methods, to quickly and conveniently eliminate dangerous pathogens that might be present in the treated space… Minimal preparation is required before technicians arrive to apply the treatment, and, in most cases, people can re-enter the facility no longer than one hour after the service has been completed. It is also convenient, as disinfecting services can be scheduled outside of normal business hours or during designated employee break times."
Read more COVID-19 coverage here: MyPMP.net/COVID-19
The post More PMPs debut sanitization and disinfection services appeared first on Pest Management Professional.
Read more: feedproxy.google.com